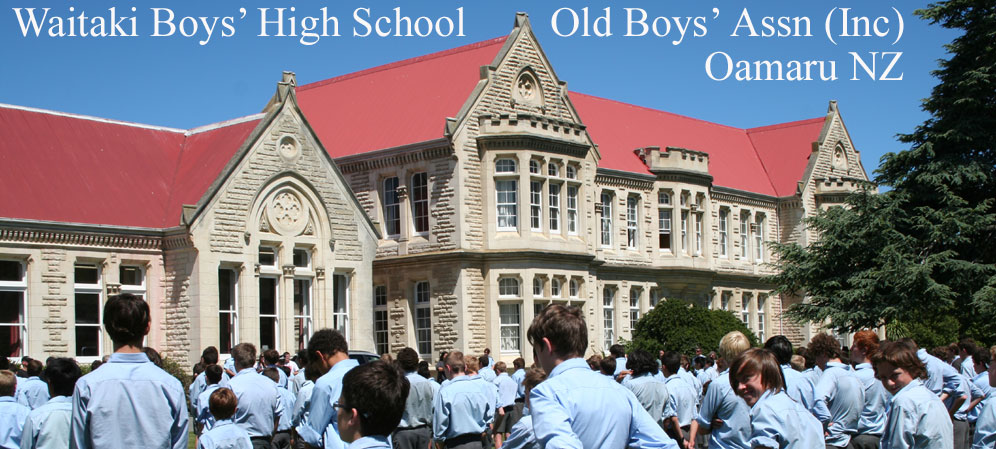 Floreat issue 9 Jan 2015
School update
The School is currently being run by a commissioner in place of the Board Of Trustees, her name is Nicola Hornsey and she has a law background and is an experienced commissioner.
The Management team remains the same.
ERO Visited and confirmed that the school is performing better than any other Decile 6 Boys school and better than most Decile 6 co-educational schools.
The school started a year 9 class using the international Cambridge exam system in 2014 and this class has performed very well. It is intended that two year 9 and one year 10 complete Cambridge exam courses in 2015.
With regards to school projects the Science/Art redevelopment continues to move forward with tenders being called for construction in early January, and an expectation that the construction phase of this project will be taking place in term two 2015.
The school and hostel are also getting a $330,000.00 upgrade to our alarm services.
This has started and will continue through 2015 for scheduled completion in January 2016. At the end of this project we will end up with a personal address system throughout the School and hostel, which will streamline many of our emergency functions in the school, as well as making the delivery of notices to all much easier.
The pool part of the swimming pool complex has now been recaulked and repainted by our school painting team and, not only does it look really good but, when we refilled it, it took less than 24 hours, a task that had taken two and a half days in the past. The cost of this upgrade has used the last of the $50,000.00 grant from the Old Boys Association.
During the holiday period the roof of the social centre was repainted as the original colour steel was showing its age.
In the Hostel area, starting with the Junior Dorms, the exterior of the hostel has had a colour change to freshen it up.
Recently there have been two further recipients of the Old Boys Association Exemplary Service Medal, for which the criteria is to have demonstrated exemplary
service to the school across a broad range of Waitaki Boy's related activities.
---
Old Boys Association Exemplary Service Medal - Trevor Meikle
First recent recipient of the Old Boys Association Exemplary Service Medal, for which the criteria is to have demonstrated exemplary service to the school across a broad range of Waitaki Boy's related activities - Trevor Meikle.
Old Boys President Russell Gawn presenting Trevor Meikle with his Exemplary Service Medal
---
Old Boys Association Exemplary Service Medal - Lindsay Malcolm
Second recent recipient of the Old Boys Association Exemplary Service Medal, for which the criteria is to have demonstrated exemplary service to the school across a broad range of Waitaki Boy's related activities - Lindsay Malcolm.
Past Old Boys President Derek Austin presenting Lindsay with his Exemplary Service Medal
---
Recent visitors to the school
David (Dave) Saville who was school Dux in 1965 and worked for many years as a Lecturer at Lincoln University before setting up his own consultancy business and writing a couple of books in mathematics and statistics.
Dave Saville outside the Hall of Memories which he visited recently with his wife and daughter.
John Kerr from Wellington who was in class of 1941. John relates to having had to be withdrawn from the school by his parents at the end of 1942 due to his parents fear that the ferries from Wellington at that time, were subject to the fear of torpedo attack by the Japanese Navy. He completed his education at Wellington College.
The class of 1965 is planning a reunion in 2015 and if you are interested please contact Hilary Bishop, here at the school, for further information or to register interest for that upcoming event.
---
Sport and cultural news
At the recent regional Pacific Island Festival Waitaki Boy's students claimed honours in that they took out 6 of the 9 titles on offer.
Group 4 – Year 13
Winner of Academic Excellence - William Saulala
Winner of Sporting Excellence - Piliu Tavake
Winner of Leadership & Cultural Performance - William Saulala

Group 3 – Year 11-12
Winner of Sporting Excellence - Elone Kivalu

Group 2 – Year 9-10
Winner of Academic Excellence - Jacob Tuisani
Winner of Leadership & Cultural Performance - Salesi Vea
There are also 2 x Oamaru Pasifika School Awards that will be given to 1 junior & 1 senior student from our school.

Our senior recipient is Thomas Cameron-Duncan for commitment, motivation and leadership in cultural and sporting involvements.

Aoraki Secondary Schools Sports Awards
The following students took out top honours at these awards.
Motocross Joel Meikle
Pool Jacob Sullivan
Touch Rugby Stephen Marsh
Basketball Max de Geest
Karate Henry Bower
Sailing Ethan Wilson
Squash Jonty Naylor
Trapshooting Tim Craig
Table Tennis Josh Tonkin Josh's sister Hayley took out the female title.
---
Musical Memories
Musical Memories - WBHS - 1944-45 - By Alistair Kerr
In my day, I suppose that, in those far-off days, nobody could call Waitaki a strongly musical school. Certainly Rugby took precedence over music!
Nevertheless, the school's music programme provided me with many fine memories, so it must have had some value.
I don't recall that we had an orchestra as such, but we certainly had a band, because I was in it! There were about a dozen boys in the band which was led by Mr P.W. "Tracker" Hargreaves. Our repertoire was limited as Tracker obviously realised that with limited time and numbers, quality was better than quantity.
As one of the biggest boys I was given the E-flat Bass to play. I even had a three-note solo in the march, "Sussex by the Sea" ! I don't think we mastered the skill of playing on the march, but we did provide the march-past music during Barracks Week.

Assembly singing in the Hall of Memories was dominated by the presence of the tremendous organ, played by the Music Master Mr L.H. "Mo" Goddard, or sometimes by one of the senior boys. I believe that the school's roll then was up in the six-hundreds, so there was plenty of volume. We belted out such rousing hymns as "For All The Saints" or "The Old Hundred". Oddly enough for a boys' school, one hymn that stays in my memory is a particularly beautiful version of the Magnificat, (from the Anglican service-book), "My Soul Doth Magnify the Lord". Another is "Let Us Now Praise Famous Men". We also sang good old "Patriotic" songs like The Yeomen of England and "The Fishermen of England", or ""Drake Is Going West Lad". Another pair of songs which reflected the trend to emulate the English Public-school ethic was "Jolly Rugger Weather" and "Forty Years On"……..Forty years on when afar and asunder, parted are those who are singing today and even then, those words gave me cause to think how the school would remain in my memories.
One year I remember that we had an Inter-House Choir Competition. My House, (the now-defunct Harkness) won that year. I remember one of our songs, which has stayed with me, was a four-part version of a tune called "Deep Harmony".
I had learned the piano for some years before going to Waitaki and my parents were keen that I continued under "Mo's" tuition. He was a good teacher and Imust have progressed because at the end of my final year he said, "If you come back next year, I'll start you on the organ". That was a rare compliment.
However my desire to start a career at sea took precedence, but I sometimes wish……. "Mo" was a chain smoker and the odd boy who liked to sneak a smoke reckoned that the best time was after being in Mo's room for a lesson as you came out smelling of smoke!
So, as well as many other life-changing memories and experiences, Waitaki has left me with some happy musical reminiscences which, in memory, still give me pleasure.
---
Obituaries
Old boys who have recently passed away are ;
Trevor Meikle of Oamaru who died as a result of illness on 28th August.
Trevor was a life member of the Old Boys Association and had served on the executive of the Community Association, was a Board of Trustees member and a Director of the Waitaki Foundation. In his retirement he found the time and interest to take up the position of inaugural Farm Manager and the schools sheep handling facility has been named the Trevor Meikle Sheep handling Facility. Trevor is also a recipient of the Old Boys Medal for Exemplary Service.

Brian Derek Mosely who died in Wellington on 26th August 2014. R. I. P.

Jed Kennedy of Oamaru who died as a result of a tragic accident in November 2014

Murray Cavan Paterson, passed away late 2014.

Stu McDougal – January 2015 in Nelson.
---
Happy New Year
I wish you all a very happy and prosperous New Year
Foreat Waitakia Ken McCallum
---
Message sent from Waitaki Boys High School Old Boys Assn | If you no longer wish to receive these emails, simply log in to your account and update your settings.