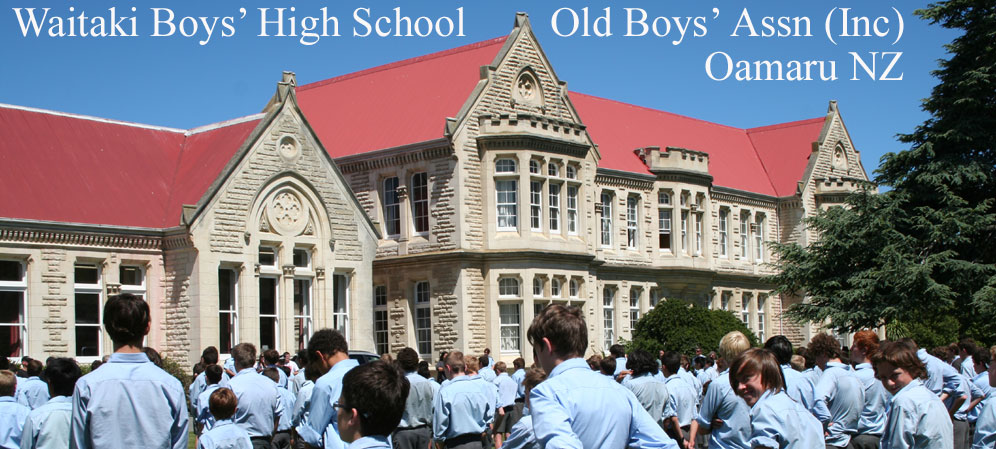 Floreat Issue 10 Term T3 2015
School update
The Management team has now been joined by Mr Roger van Booma who has taken up the role of Assistant Rector and has the major responsibility for Pastoral care across the school
Roger writes
I am 51 years old, married to Justine, and have 3 children and 8 grandchildren.
Born in Willowbridge, I lived most of my younger life in Timaru. I am an old boy of Timaru Boys' High School (1977-1980) and a member of their Old Boys' Association.

My working life began as a Psychiatric Nurse Aid. I moved back to Timaru to look after my father, and began working at New Zealand Light Leathers. I studied while working and became a Tanner (Adv. Dip in Organic Chemistry), winning a scholarship to work and study in Stuttgart, Germany, and then to Turin, Northern Italy. I was subsequently offered Technical manager's positions in two Brisbane Tanneries where I worked for 8 years.
I moved from a management role to a part-time role and began studying at Queensland University, where I graduated BA (Hons.) and BEd, taking up a teaching role in History and English at Clontarf Beach State High in Northern Brisbane. I have taught at Roncalli College and most recently as Head of History at Timaru Boys' High, before being appointed to Waitaki Boys' High. I have worked intermittently as a truck driver, in a shearing gang and on farms throughout this period.

Outside of work I enjoy playing golf, hiking, fishing, gardening and cooking but am also happy to spend the weekend at home, working around the house and having friends over.
Justine and I share a love of teaching and are enjoying the school and living in Oamaru. It is a privilege and a great responsibility to be responsible for helping to shape and influence young people, and I look forward to building relationships, and friendships, in the community so that through communication and consultation, we can help our young men achieve great things.
---
The School
Several school projects are being undertaken at this time
the Science Art redevelopment continues to move forward with tenders being called for construction to begin in early January, and an expectation that the construction phase of this project will take place in term two 2016.
The school and the hostel are also getting a $330,000 upgrade to its alarm services. This has already commenced, and will continue through 2015, for scheduled completion in January 2016. At the end of this project there will be a PA system throughout the School and hostel which will streamline many of our emergency functions within the school grounds, as well as making the delivery of notices to all more efficient and timely.
In the Hostel area Junior Dorms have had an exterior colour change to freshen them up.
At the last Foundation meeting, the Foundation agreed to fund the preparation of an in depth architectural study and a full design brief for a staged hostel replacement.
---
Hostel History
Waitaki Boys' High School has facilitated boarders for 133 years. From the beginning the founders planned that Waitaki should be a great boarding school. It took many years before that dream was realised, but even at that early stage in the schools development, boarding was, and still is, a significant feature of Waitaki life.
One of the attractions that Waitaki Boys' holds for boarders' families, is its relationship to farming and agriculture, because of the schools farm and the agricultural courses it offers.
The boarding houses of the past used to be constructed of Oamaru stone, and were representative of the schools majestic facade that creeps up on you as you drive into the school's grounds. In the late 1950's the first wooden structures were built to accommodate the increased number of students choosing Waitaki Boys'.
The boarding roll rose to 320 and the schools roll reached 1,000 students.
Another refurbishment took place in 1962, when the school embarked on the construction of more wooden style accommodation. In 1984, the school had to decide whether the old stone boarding houses were to be renovated or demolished to come up to current day building standards. Economics, and a large drop in boarding numbers (160 boarders) made the decision easy, and the last of the old stone boarding houses were demolished in 1985. A new laundry and dining room was then built on the old site. From 1984 to the present day, the boarders at Waitaki Boys' High School have been housed in wooden buildings.
Over a period of approximately twenty years (1962 to 1985), the four boarding houses were reduced to one, and the boarders at Waitaki Boys' High School are now known as 'Don House Boys'.
Modern day Waitaki Boys High School Waitaki Boys' High School has 400 day boys and approximately 90 boarders.
The school has a 64 acre site and offers a school farm as a teaching resource to the curriculum. The farm's facilities have been upgraded in the last three years to include new sheep pens, shearing facilities and irrigation. The farm is now fully irrigated, and this was achieved through sponsorship and investment to the value of $280,000.
The school is also upgrading its Science and Arts facilities, and this project is expected to be completed in 2016. This has an investment value of $1,000,000.
The present boarding facilities were first built in 1962 and are now past their best. They are of wooden construction, and when compared to other boarding facilities on offer at other schools, do not bolster recruitment.
The school is still attractive to farming families and also offers an alternative academic qualification to our competitor schools, Cambridge IGCSE.
The school boasts a proud sporting and cultural tradition that is still apparent at school today. The 'Don House' boys are the backbone of all the sporting and cultural codes on offer at Waitaki. They are the heart and soul of the school.
---
The brief for a new boarding house
What is there to like about the current Don house
• Don House is very sunny and was built to use the maximum effect of the sun
• Seniors and Juniors are separate
• Promotion from junior to senior year levels is apparent
• It has quadrangles of grass and gardens with lots of colour
• Cool in the summer
• Very safe due to security cameras and alarms
• Single and double rooms in senior dormitories
• Gas heated showers
• Wireless communications for students to support student's devices
What is there to dislike about the current Don house
• Spread out over a vast area
• Needs a lot of staff to monitor students
• Expensive to staff
• Cold in the winter
• No double glazing in common rooms
• No double glazing in senior dorms
• Too many in one dormitory for modern day requirements
• Noisy
• Dilapidated in areas. Rotten wood, floors and bathrooms need to be upgraded
• Hard to clean, surfaces are not resistant to boys and their traits
• Too easy for boys to hide from staff
• Dorms and individual rooms have high maintenance and high cost electric wall heaters
• No staff sleeping accommodation for overnight staff
• No private staff common room, out of sight of students
• No intercom system from the office to all areas of the Don House
• Sickbay is not attached to the main area of the current 'Don House'
• Unable to monitor all the students on-site
• Un-attached staff accommodation
• Not welcoming
What is missing in the current Don House
• It is not under one roof with staff accommodation
• No parent's room and not a lot of family feeling
• No senior student cooking facilities
• No kitchen facilities for modern living, or preparing senior students for independent living
• No independent/shared living for seniors
• Not a very suitable gym for senior boys
• No under floor heating
• No warm common rooms and no climate controlled buildings
• The doors do not self-shut and they are not strong enough to be boy proof
• No double glazing throughout
• No shared bathrooms for senior students
• There are no stainless steel surfaces to protect surface edges and surfaces from damage
• No intercom system
• Lack of close proximity to the dining room is a problem in cold and wet weather
• Lack of close proximity to laundry
• That feeling of 'Home away from Home'
• No cleaner's cupboards in each dormitory
Ideas about design and matarials
Materials
• Precast concrete with Oamaru Stone façade in line with present features of the school
• Stainless steel/metal door stencils, doors (Hard wood or metal) and support structures
• Hard surfaces scratch proof and resistant or easy to clean surface against graffiti
• Lots of double glazed glass
• Feature windows in lobby
• Polished concrete floors in passages, lobby, toilets and bathrooms
• Carpets in offices, parent room, all accommodation rooms and common rooms
• Gas heated hot water supply
• Climate controlled building
• Use of the schools boiler to supply heat to the underfloor heating system
• Integrated with present dining room
• Window design to compliment or resemble the Junior High Building
Features that are important to the design
• Under one roof over two or three levels
• To provide accommodation for 120 boys. (60 Junior and 60 seniors)
• Ensure that the building is in keeping with the traditional school buildings
• Large impressive foyer to accommodate staff reception, offices, sick bay and parent room
• Foyer to have a glass wall so the Hall of Memories can be seen through the foyer
• Two quads, one senior and one junior…historic
• Reflect the Junior High Building opposite
• School Crest to be included in designs…perhaps on glass sliding entrance doors
• Pitched roof
• Colour of roof is the same as the rest of the school; Pioneer red
• Quadrangles
• Light and airy
• Hall of Memories
• Oamaru Stone
• Years 9,10 and 11 students in pods of four or six students…communal bathrooms
• Years 12 students share rooms with interlinked bathrooms between two sets of rooms
• Year 13, and House leaders have single rooms with shared bathrooms
• Accommodation for overnight staff
• It must have that WOW factor when it first comes into sight as you drive towards it
---
Timaru Boys High School interschool sports
This was the 132nd time this event has been held
Wednesday 26th August 2015
The shield returned to WBHS after 8 years away
Results Table

| Sport | WBHS | TBHS | Winner |
| --- | --- | --- | --- |
| Golf - 4 | 2 | 2 | Draw |
| Basketball 1st V | 72 | 78 | TBHS |
| Trap Shooting - 5 | 276 | 239 | WBHS |
| Squash - 3 | 3 | 0 | WBHS |
| Rugby U 14.5 | 38 | 29 | WBHS |
| Badminton - 4 | 6 | o | WBHS |
| Chess - 4 | 12.5 | 3.5 | WBHS |
| Debating Junior | 235 | 227 | WBHS |
| Rugby U 16 | 12 | 53 | TBHS |
| Basketball Junior | 58 | 17 | WBHS |
| Football U 16 | 1 | 4 | TBHS |
| Hockey 1st XI | 1 | 4 | TBHS |
| Rugby 1st XV | 20 | 15 | WBHS |
| Overall | 9.5 | 7.5 | |
---
Recent visitors to the school Chris Butcher
Recent visitors to the school have been Chris Butcher who was from the class of 1991.
Chris had completed two degrees by the time he left Waitaki, and went on to work for Microsoft in Seattle, first as a software developer then as a team leader.
Chris left Microsoft around 8 years ago and set up his own company design gaming software for computers tablets and smart phones.
It was good to catch up with him and his wife.
---
Cultural news - Joseph Balfe
The Intermediate Overall winner of the 2015 New Zealand Golden Guitar Awards and second in the Smoke Free Rock-Quest National Finals
---
Sporting news - Mark Taylor
Mark Taylor is the National under Sixteen single Sculls Rowing Champion
---0---
James Wagner has recently been placed second in the Aoraki Pool tournament and is entitled to attend the National Secondary Schools Pool Tournament.
---
Paul Jackson - Rector 2015
By now you will all know that Paul has resigned as at the end of the 2015 school year.
Paul was given a number of tasks by the BOT that appointed him.
Principally as a change manager.

Paul moved things forward in a number of areas;
• To bring the school into a 21st Century learning environment
• Bringing in the Cambridge System examinations – now in its second year.
• Raising the level of Merit and Excellence Endorsements- this has increased by 400% in the last three years.
• Moving Science out of a non-earthquake safe building - Plans and Specifications ready for Contractor tendering.
• Reinvigorating the Old Boys Association –Very well done.
• Getting the school moved up on the list for the SNUP upgrade.
This is delivering the absolute latest Ultrafast Broadband to the school to enable boys to be able to interact with the world from anywhere in the school - will be completed by 30th November, two years early.
• Development of the School Farm as well resourced, the Model farm has occurred on his watch.
• Upgrade of school servers and changing the school student database from MUSAC to KAMAR
• Introduced results analysis based on department and individual teacher performance.
• The full application of the PB4L programme which improves student behaviour and puts them in a better frame of mind to learn. Part of this involved the removal of the referral room where troublesome students (up to 100 a day) had been sent, instead of the behaviours being addressed by the teacher at the classroom level.
Paul has shown absolute passion in his research of this schools' past, and was able to link to any visitor to the school, their family connections to this place if and when they existed.
---
Obituaries
Old boys who have recently passed away are ;
GG (Geoff) Elvidge, Years at Waitaki 1939-42
WG (Wilson) Spite, Years at Waitaki 1939-42, also as teaching staff.
JH (John) Hotop, Years at Waitaki 1946-47, Former All Black
DJ (David) Sumpter, Years at Waitaki 1946-50
IF (Ian) Mathieson, Years at Waitaki 1949-52
Leicester John Stephens.
Quentin (Q) Kemp Master at Waitaki 1954-94
Andrew Baird 1957-58 at school
Keith Woods
Charlie Arthur Woods, Former All Black
---
Floreat Waitakia - Ken McCallum
Best wishes to all Waitakians and families for the upcoming festive season

On behalf of the Waitaki High School Old Boys' Association Inc. and the Waitaki High School Foundation
---
Message sent from Waitaki Boys High School Old Boys Assn | If you no longer wish to receive these emails, simply log in to your account and update your settings.